description of the procedure
With a method renowned for its non-invasiveness, ultrasonic waves have taken centre stage in the field of skincare innovation. We're delighted to introduce you to two of our signature services that promise to elevate your skincare experience: Cavitation Peeling and Sonophoresis Facial. The first method, Cavitation Peeling in Preston is primarily focused on exfoliating and cleansing the skin and it is the perfect treatment for any skin type, also sensitive, capillaries-prone and acne skin can enjoy its benefits.
Sonophoresis, on the other hand, is a method of delivering active substances from serum directly into the deep layers of the skin. It is performed using a special equipment that produces ultrasounds. That method also stimulates blood circulation and lymph flow, leaving the skin brighter, moisturized, and radiant.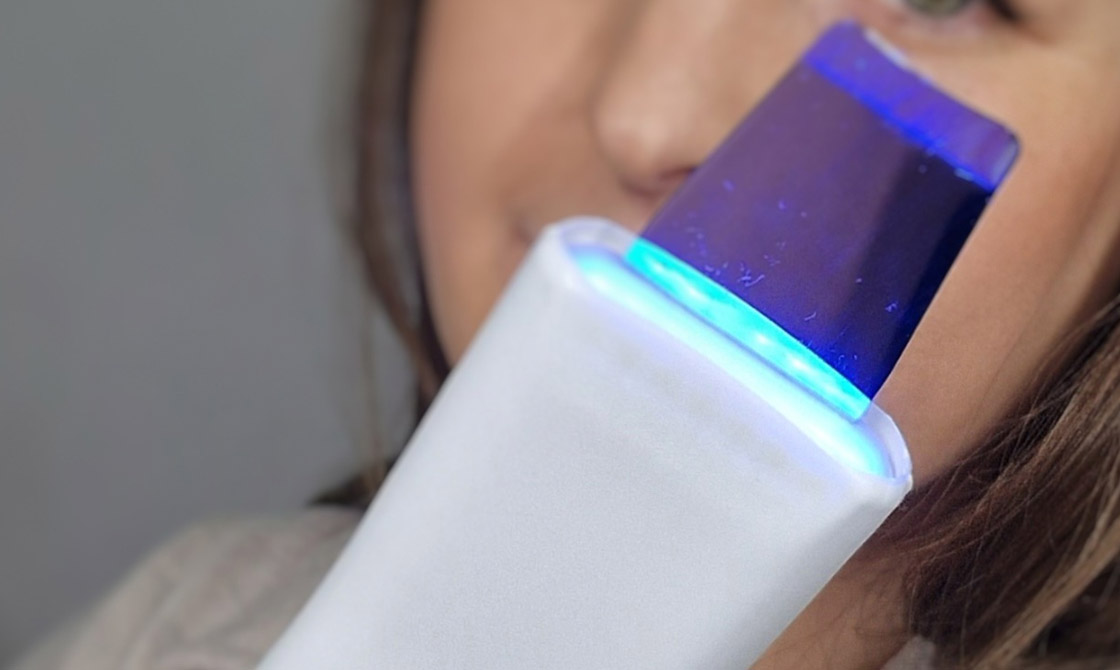 Discover the remarkable "before and after" benefits of our facial treatments in Leicestershire, unlocking the transformative power that enhances your skin's radiance and beauty. Schedule your ultrasound treatment today for a rejuvenated and glowing complexion and enjoy the benefits of our services!
Cavitation Peeling Preston – before and after
Experience the stunning difference in your skin's texture and appearance, and other benefits with our Cavitation Peeling. This treatment is primarily focused on exfoliating and cleansing the skin. The "before and after" reveals a revitalized complexion, free from impurities and boasting a radiant, refreshed glow. Through Cavitation Peeling using ultrasounds and water or special liquid we can achieve noticeable effects of smoothing, firming and cleansing results.
Our skilled aestheticians use a specialized device to create micro-shockwaves, delicately lifting away impurities and dead skin cells. The benefits? A smoother complexion, unclogged pores, and a radiant glow. Cavitation Peeling is pain-free and perfect for all skin types. Cavitation Peeling helps improve skin texture, unclog pores, and enhances the absorption of skincare products while offering a pampering experience that leaves you feeling revitalized and your skin looking its best. Book your next appointment at PJ Cosmetology and witness the stunning "before and after" transformation!
Sonophoresis facial benefits
Experience the transformative benefits of Sonophoresis Facial, where the power of low-frequency ultrasound waves enhances skincare product absorption, leading to deep hydration, diminished fine lines, and an overall improvement in skin texture. Experience the remarkable "before and after" effects of our Sonophoresis facial. This ultrasound facial treatment in Leicestershire uses ultrasound waves to facilitate the delivery of topical treatments, such as serums or creams, for better absorption. Sonophoresis facial is designed to maximize the efficacy of skincare products, ensuring that active ingredients penetrate deeper into the skin.
Our skilled professionals use low-frequency ultrasound waves to create pathways in your skin, allowing active ingredients to penetrate deeper. The benefits? Boost in hydration, reduction in fine lines, and an overall improvement in skin texture. Elevate your skincare routine with our Sonophoresis treatment, harnessing the power of ultrasounds for an unparalleled "before and after" transformation.
Why choose PJ Cosmetology for your skincare journey?
At PJ Cosmetology we pride ourselves on delivering exceptional and personalized skincare experiences that benefit your skin. Our team of skilled aestheticians is dedicated to understanding your unique skincare needs and tailoring facial treatments that bring out your natural beauty. Marvel at the transformative "before and after" of combining Cavitation Peeling and Sonophoresis.
Whether you choose Cavitation Peeling , Sonophoresis, or a combination of both, our goal is to leave you feeling pampered, refreshed, and glowing. Ready to embark on a journey to radiant skin? Contact us to schedule your appointment. Our team is here to guide you towards the perfect skincare regimen for your individual needs.