description of the procedure
The massage is based on the classic massage techniques. It has not only a relaxing effect but also brings many benefits to the facial muscles, improving their tension and appearance, which directly affects the facial skin and gives it a much more attractive appearance.
Classic massage has a mechanical effect on the tissue and increases skin blood circulation.  Additionally, it prevents the formation of wrinkles. During this rejuvenating treatment we work on facial contours, healthy glow of the skin and definitely calming your mind.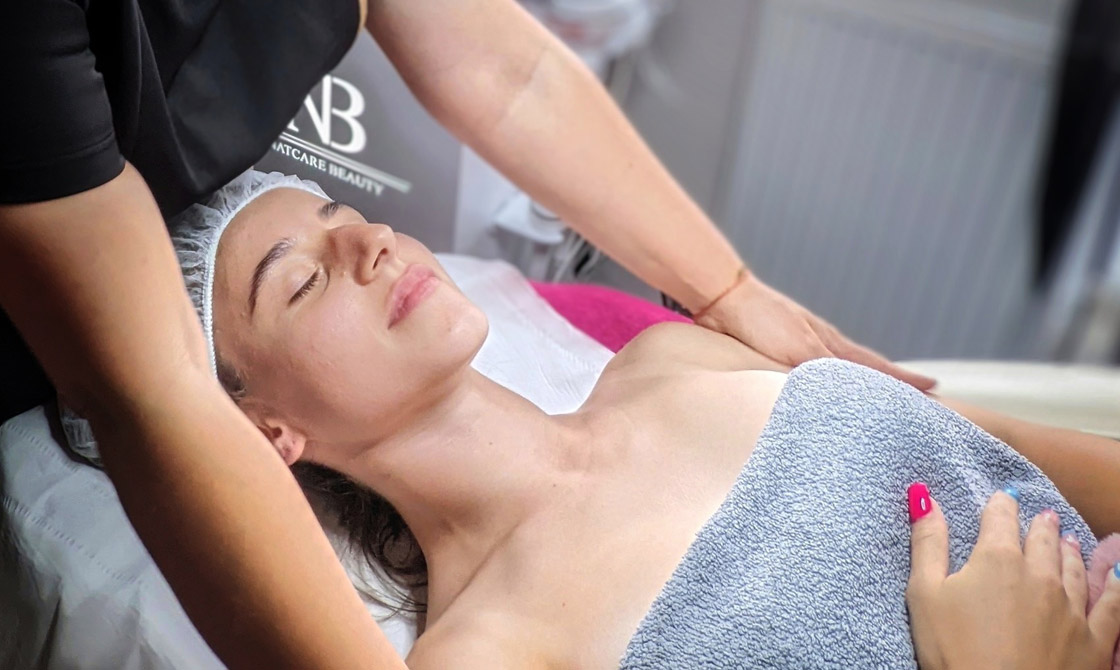 It sculpts, relaxes, refreshes, and gives you immediate visible results without any downtime – what more can you ask for? Simply book your next head, neck, and décolleté massage in Preston to discover and enjoy the full benefits of our rejuvenating treatments tailored exactly to your individual needs! The soothing strokes not only help you relax, but also melt away any retained fluid, particularly around the eyes and cheeks, improving the overall appearance of your skin.
Head, neck, and décolleté – classic massage in Preston
It's an amazing de-puffing treatment. After the appointment, the puffiness in your face will significantly decrease. Facial massage stimulates every muscle in your face, creating a sculpted jawline and defined cheekbones! Classic massage in Preston can also ensure elasticity and boost collagen production. It also improves blood circulation, smooths and diminishes facial lines. The facial and décolleté treatment can also help improve the appearance of acne scars and make your skin brighter. Our head and neck massage is done by simultaneously massaging both, the inner and the outer muscles of the mouth, and working inside the cheek, lip, and jawline. This technique helps us achieve the best effects.
Book your facial massage
Our experts know exactly which pressure points to activate for the relaxing effects of the treatment. Massaging the head, neck, and décolleté relieves tension in the muscles, helping you relax both your facial features and your mind. For example, massaging the décolleté area is not only very soothing, but it also helps with elevating and tightening of the skin on the neck. Through massaging and applying pressure to the area we can achieve a lifting effect. We also use special serums and gels which support personal skin care and ensure a lasting improvement of your skin. Treat yourself to a tailored facial, head, neck and décolleté massage in Preston and unwind after a stressful day or start your day with a great treatment in our skin care clinic. Book your appointment before a big event or after a stressful time in order to enjoy the immediate results of our treatments!